Brown-Forman's Tuaca Changes Media Strategy in Face of Tough Competition
Rooted in the Italian Renaissance, vanilla-citrus liqueur brand Tuaca did not make its way to the U.S. until centuries later, propelled by interest from American soldiers who drank it abroad during World War II. But from there, Tuaca's U.S. history gets a little cloudy, with competing accounts emerging from the brand's two biggest states.
"If you talk to people in Texas they'll say that a bartender … picked the brand up off the shelf one day and it was dusty and [he] started drinking it and then passed it out to all his friends, and they started promoting it and that's how the brand got big," said Tracey Johnson, who runs the brand for owner Brown-Forman. "But if you talk to the Colorado people, they tell you that it got picked up by a bartender and it got really big in the mountains and all the people who vacationed in the mountains from Texas took it to Texas."
The only agreement, it seems, is that "bartenders built it [with] guerilla grassroots efforts," she said. "It really has been a bartender's brand."
Until now. With more liqueur brands competing for the attention of bartenders, Tuaca has lost some ground of late, forcing Brown-Forman to shift its marketing strategy in search of new momentum. In a campaign debuting regionally this week, Tuaca will air its first TV ads ever. The spot [below], by agency Boxing Clever of St. Louis, will run in Texas and Colorado, but could mark the beginning of a larger effort.
"We definitely would like to" expand the TV buy, Ms. Johnson said. "This was really meant to be a test."
For now the spot will air in Denver, Colorado Springs and Austin, Texas, on cable networks such as ESPN, Comedy Central and TNT, as well as on broadcast stations during shows such as "Saturday Night Live" and "Late Night with Jimmy Fallon." The media buy continues a trend of booze brands moving aggressively to TV as marketers take advantage of a greater acceptance from stations, which had historically shied away from hard-liquor ads.
The Tuaca ad features a Rube Goldberg-inspired chain reaction, showing an orange sliding off a top bar shelf, starting a record-player whose vibrating music sends a shot glass to the hand of a bartender. The tagline, "the spirit of adventure," speaks to the legions of 20- and 30-something male skiers, snowboarders and other outdoor-sports enthusiasts who are the brand's target market.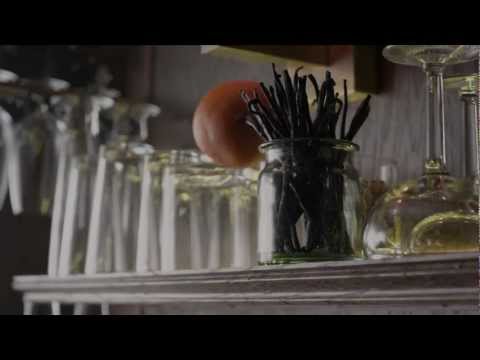 The brand used to be able to count on buzz from bartenders, who were lured into action with sponsored promotions such as the "Body Art Ball," which featured performers with body paint. But as bartending evolves into more of a professional occupation, Tuaca finds itself competing with more brands that are "having events with [bartenders]" and "spending money on them," Ms. Johnson said.
Competition has also stiffened as marketers flood the market with new innovations, ranging from whiskey-based liqueurs such as Wild Turkey American Honey to Kahlua Midnight by Pernod Ricard, a blend of rum and black-coffee liqueur. Brands are also stepping up their marketing, including Jagermeister, the top-selling liqueur, which broke the first TV ad in its history last year. In the past 52 weeks, Jager sales at stores jumped 6.46% to $78.9 million, according to SymphonyIRI. Sales of Tuaca — which is available nationally — fell 9.34% to $1.5 million, according to SymphonyIRI. (The figures do not include sales at bars, which constitute a majority of sales, but Brown-Forman confirmed that Tuaca's overall sales are down by an unspecified amount.)
Tuaca — pronounced "two-AH-ka" — is made from Italian brandy, natural sugar and a "touch of soft citrus and vanilla essences." The recipe was originally created 500 years ago at the behest of Lorenzo de Medici, the ruler of Florence and a benefactor of renaissance art and architecture, according to the brand. The formula was unearthed in 1938 by brothers-in law Gaetano Tuoni and Giorgio Canepa. They named the brand by combining the first letters of their last names. (It was originally called "Tuoca.")
Brown-Forman has held U.S. distribution rights since 1999, taking full ownership of the brand in 2003. Texas and Colorado account for nearly 50% of the brand's volume, with other top markets including California, Kansas and Nevada (mostly in Reno). In Colorado, Tuaca first gained a following in Breckenridge thanks to a pair of European bartenders who liked it. Because Tuaca mixes well with hot drinks, word spread to other ski towns such as Steamboat Springs and Vail. (In southern Colorado, Tuaca is known simply as "Pueblo water.")
The brand fueled the momentum with grassroots marketing such as bartender competitions in which drink makers had to navigate obstacle courses without spilling glasses filled with Tuaca. In 2008, a spirits columnist at The Washington Post predicted that Tuaca would be "the new Jagermeister," noting that sales had doubled since 2001, while praising the liqueur for its "complexity and potential as a cocktail ingredient."
But the recent slump has convinced Brown-Forman that the "old [marketing] ways aren't working," Ms. Johnson said. "So now we are looking for some new and different ways. And that's where this [TV] advertising came about, because I don't think people would expect it from a brand the size of Tuaca."